The purpose of this project was to simulate a real-world, week long design sprint for designing an app. This project was part of Intro to UXD course at Rutgers University. We were given a Request for Proposal from UN supporting its "One For All" sustainable development goals. We were required to come up with a solution to engage college students in various social causes.
My Role:  Prototyping, User testing and Re-Design
The Challenge

: Engaging students to involve in a social cause supported by United Nations.
Strategy

:  We chose the cause "quality education" because it was something we were passionate about.
1. To make college students aware of the facts about lack of education opportunities for the underprivileged.
2. Encourage them to participate and contribute to make a difference in the life of those people
3. Give them an accessible platform so that contributing and participating becomes easy.
1. Interview college students
3. Design user flow and IA
4. Create responsive prototypes
6. Conduct user testing with the prototype
The intended audience for this project was students at Rutgers University. So, we interviewed 12 students on campus and asked them questions about quality of education in general and whether they are involved in any cause or not. We asked open ended questions like how would you help someone who does not have access to education.
We found that most students were not aware of this fact that quality of education is a challenge in other parts of world.
Some people were aware but did not know how to help easily.
Some students were ready to do volunteering for the cause like this.
Others had lot of course work so no time to do anything, but they would like to engage if they get some time.
Very few people were really motivated to do something in the field of education and contribute their knowledge for the betterment of the society.
This is the journey map for one of the persona showing his action, thoughts, emotions, touch points and opportunities  that we can use before, after and during the process at present without the app.
The purpose of making this journey map is to understand a scenario in users's journey and identify opportunities for solving the problems. We created Rob's journey map because his personality and needs match most of the target users.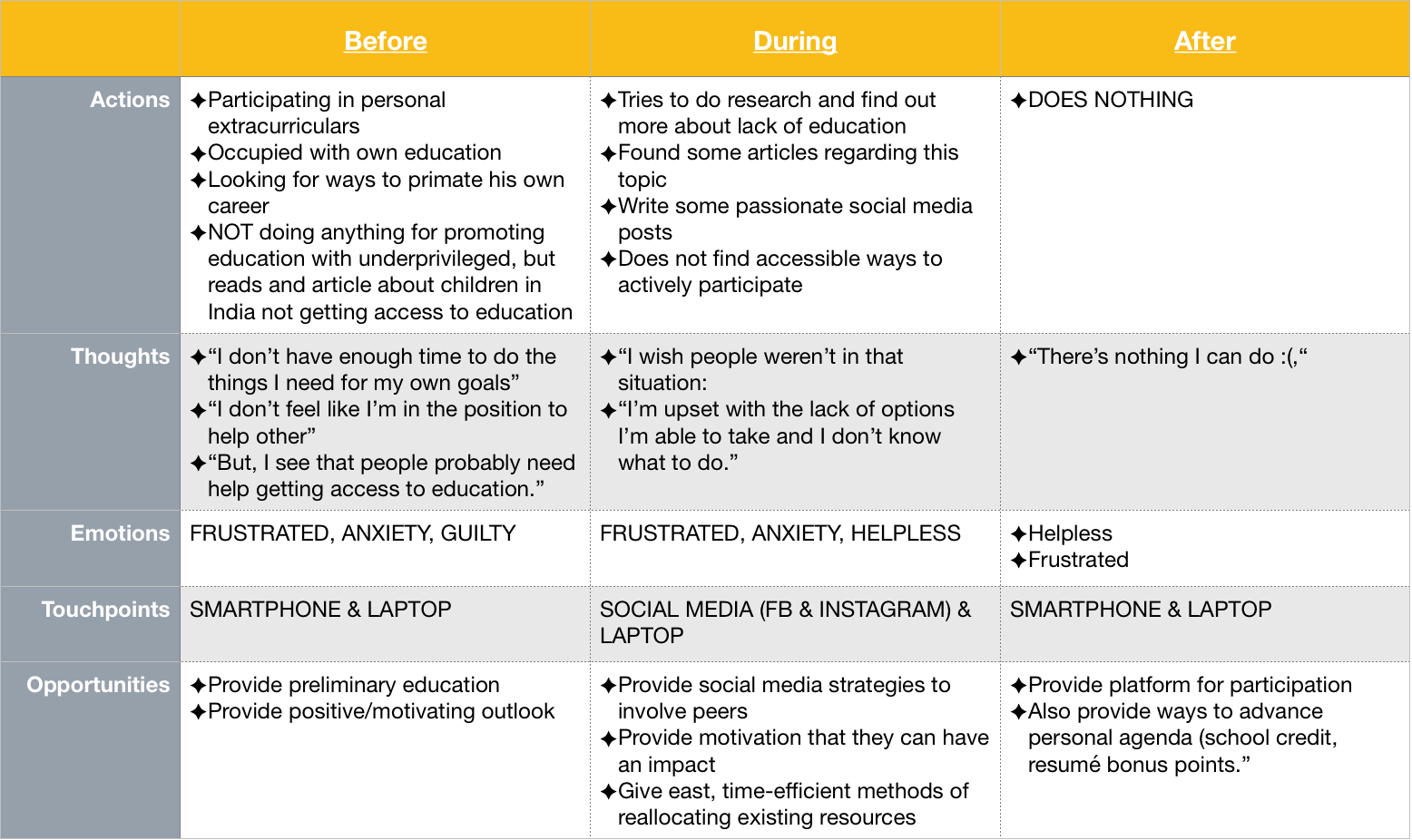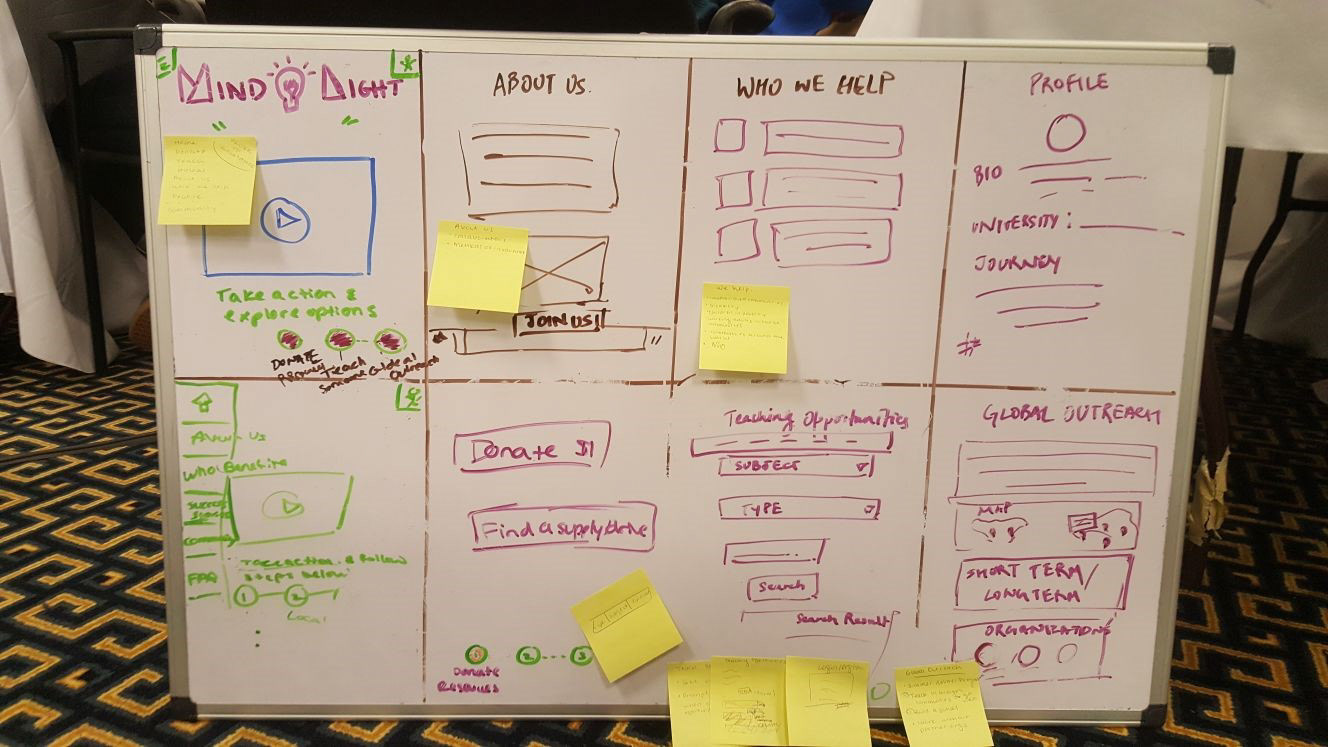 These were the initial prototypes that we made using atomic prototyping tool. The idea was to make primary goals of the app easily accessible on every screen. Showing a video on the main screen to make students more aware about this cause and how can they change lives by their time and resources even remotely to different parts of the world.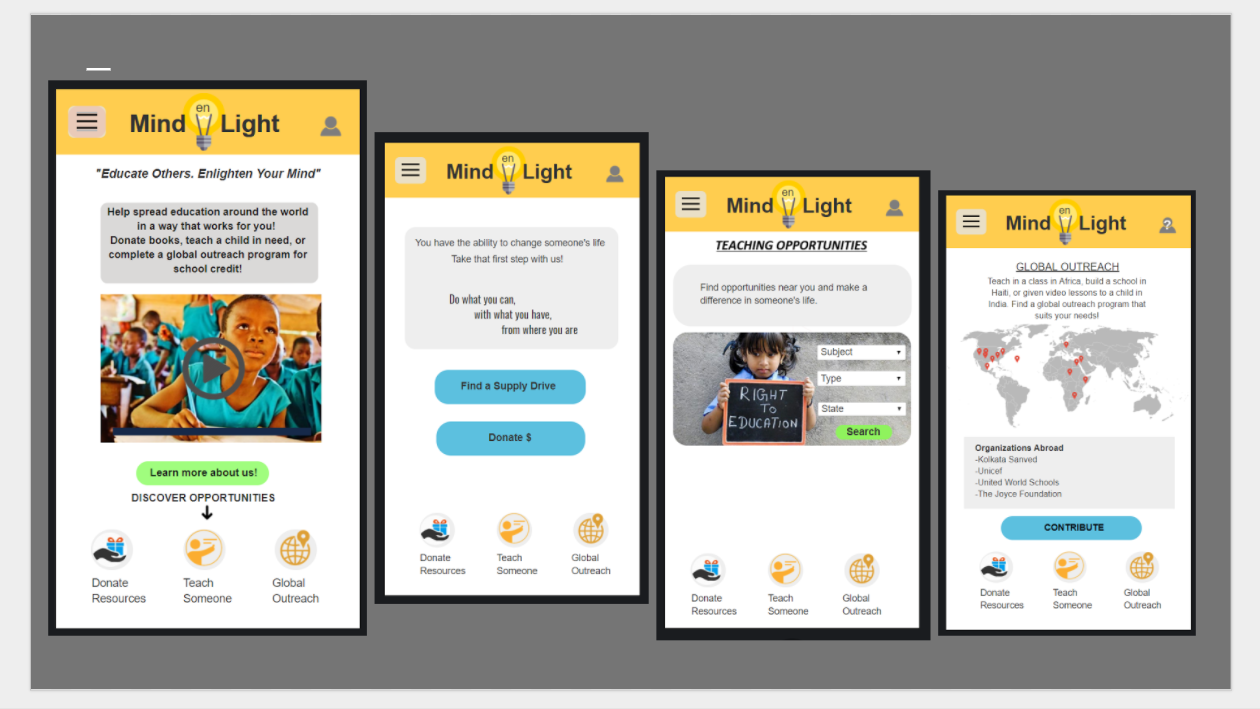 A test booklet was prepared to conduct user tests with some students of Rutgers University. This was a moderated face to face usability test. The moderator conducted the test, and others took notes. The session was recorded with the consent from the testers. A qualitative analysis was done with the collected data.
We got some mixed responses from the user tests like:
      positive: "The navigation menu is pretty intuitive"
      positive: "The design looks very clean, I like the colors."
      negative: "Some pages have too much text on it, I don't like reading. "
      negative: "The purpose of the app is not very clear."
     bottom navigation buttons,
We used Nielsen's Heuristics to evaluate the prototype. We found the following issues for the app. 
      No news feed page which shows on going activities or nearby events.
      Global outreach button not clear.
      Some pages of the app are too wordy
      Design inconsistencies present
      The app does not gives a look and feel of a native mobile application
      Proper feedback missing in the login page
      System's status looks confusing, eg currently logged in or not?
ReDesign - Adding Missing Pieces to Create a Better Solution
Using the findings in Heuristic Evaluation and results of the usability testing, I redesigned the wireframes, to make it more usable for the intended audience.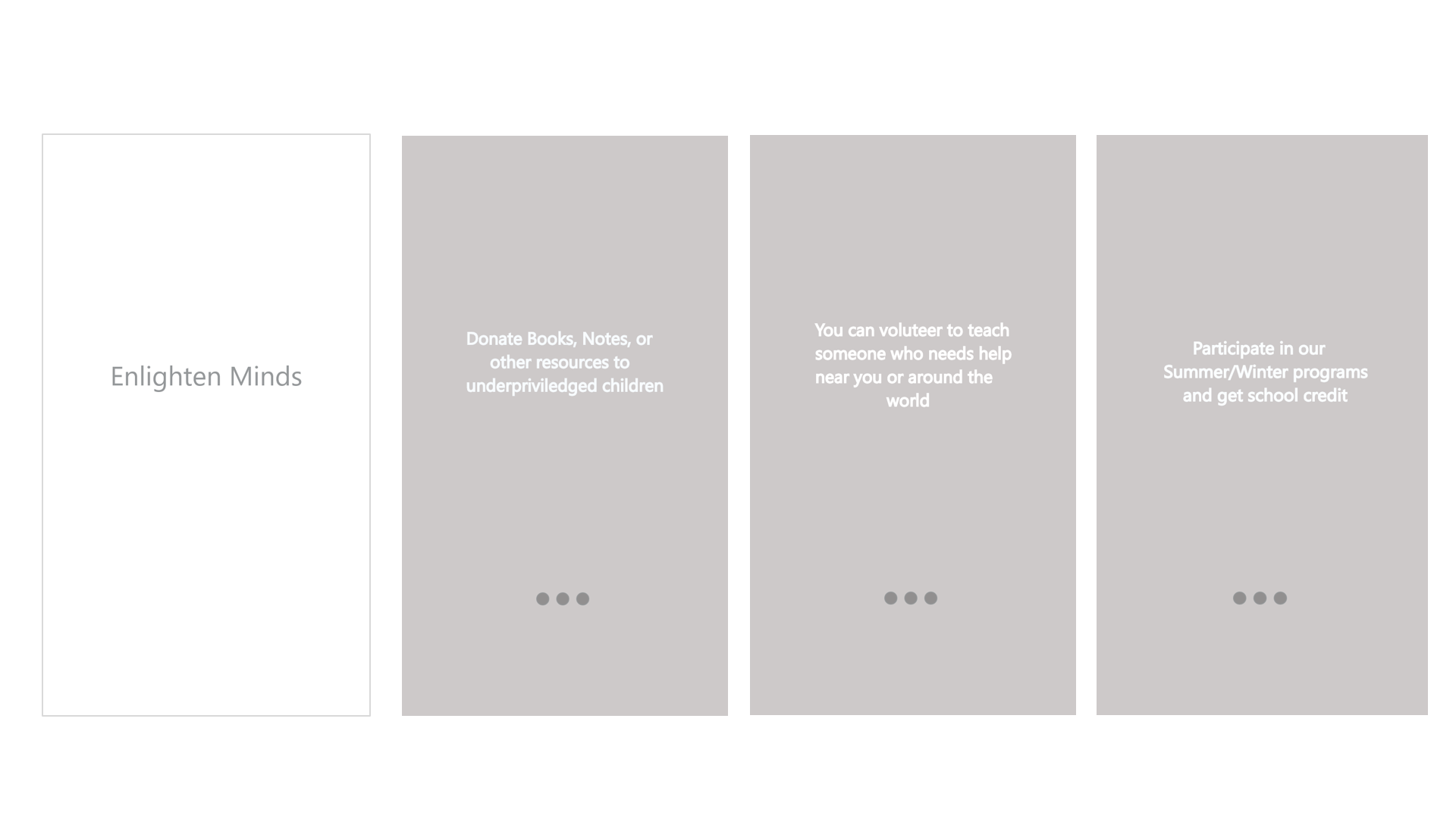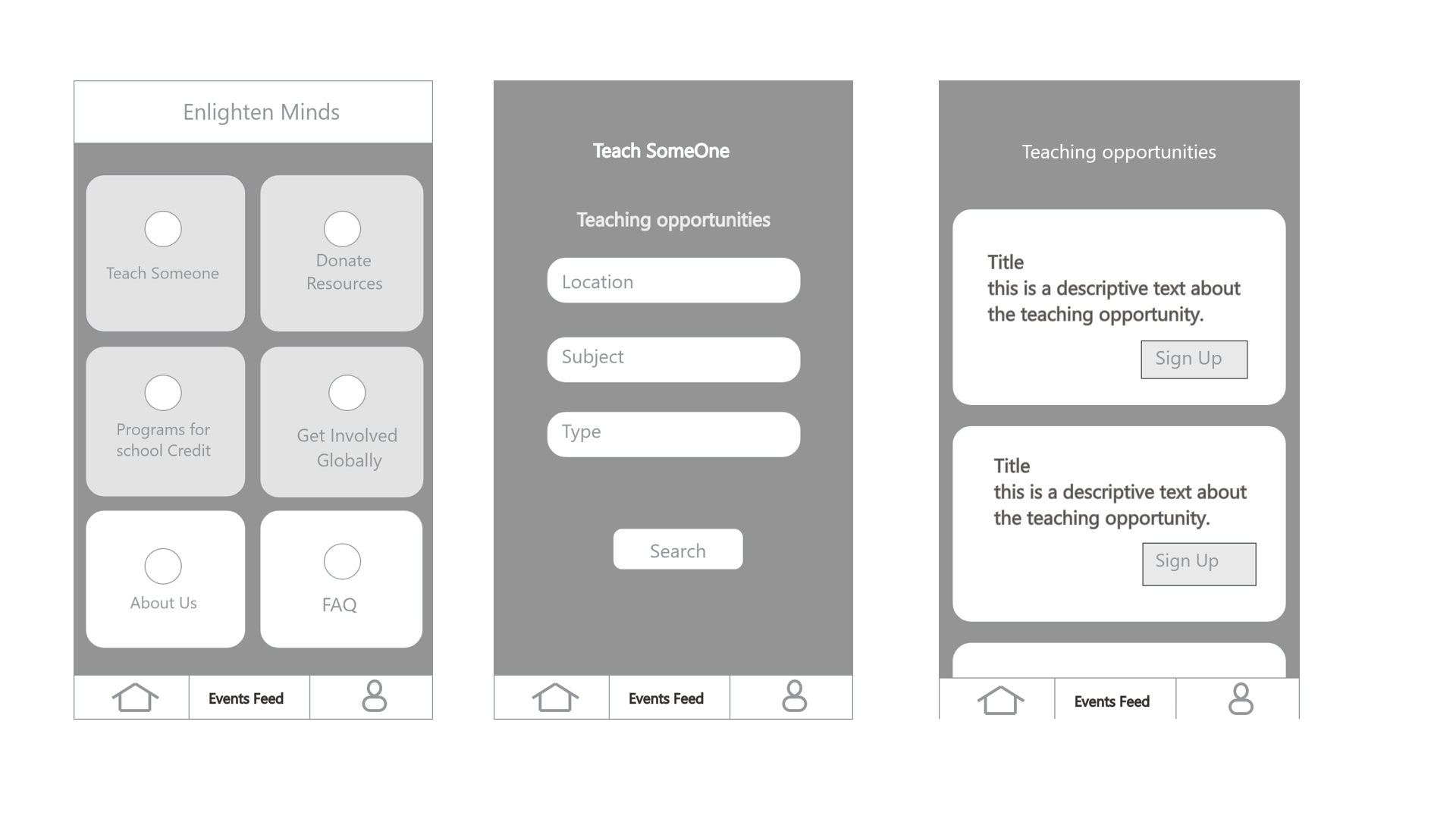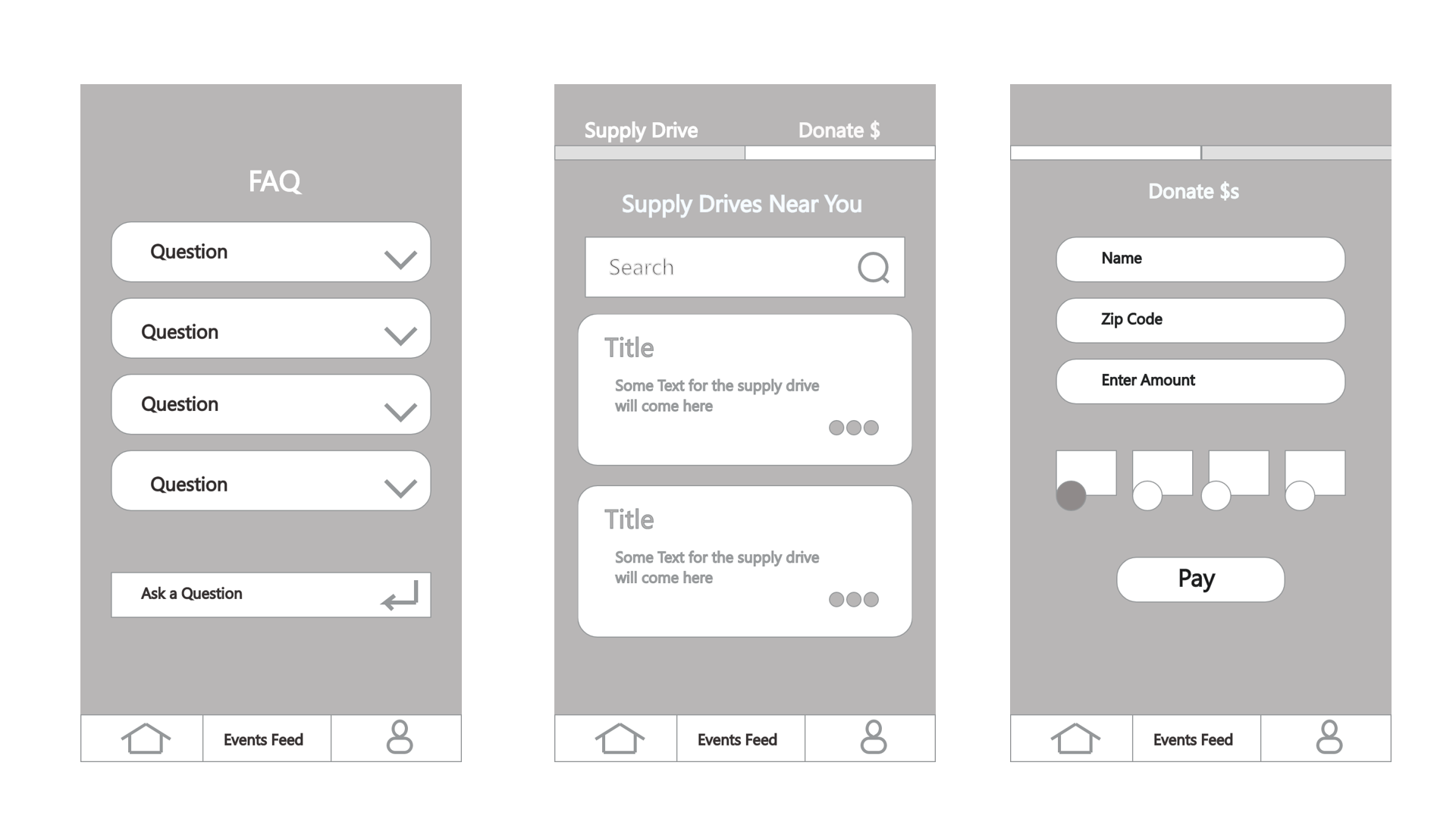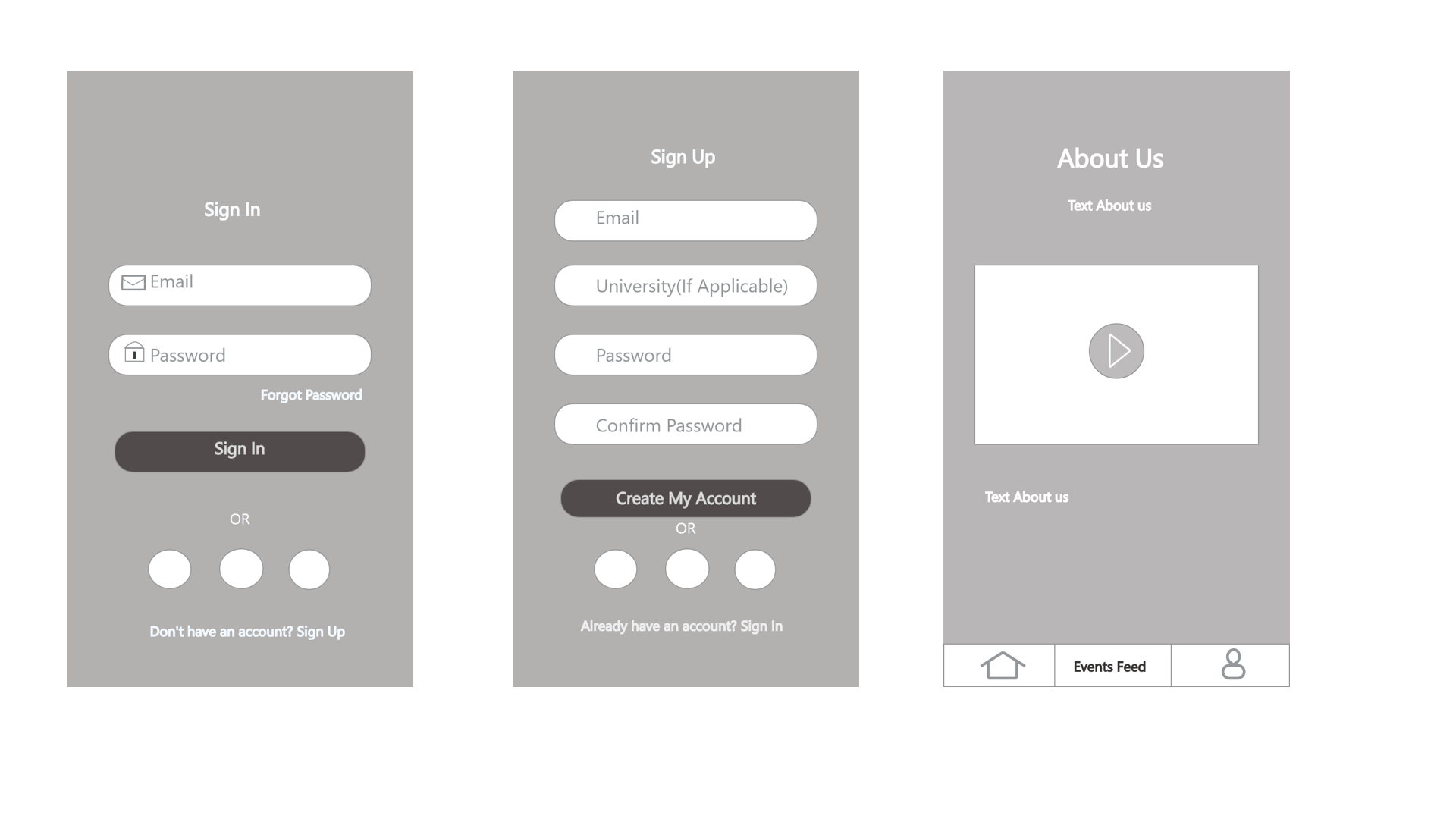 In this UX case study we were able to do user research and create prototypes with the help of that research. Usability testing and heuristic evaluation gave insights about the usability issues that real users might face. In the end we redesigned the prototypes for better user experience. This was a valuable experience in understanding the UX process and a design sprint.