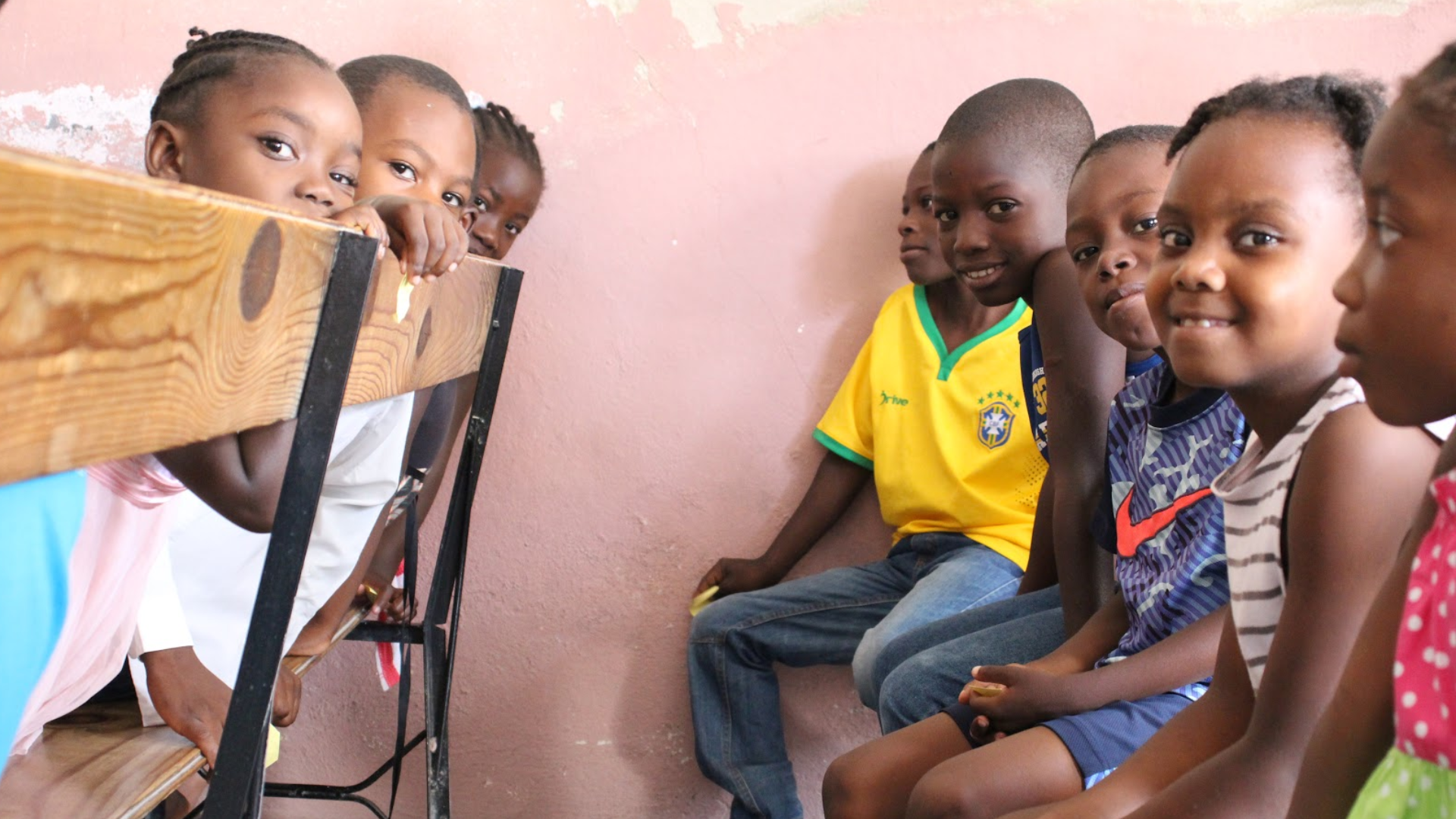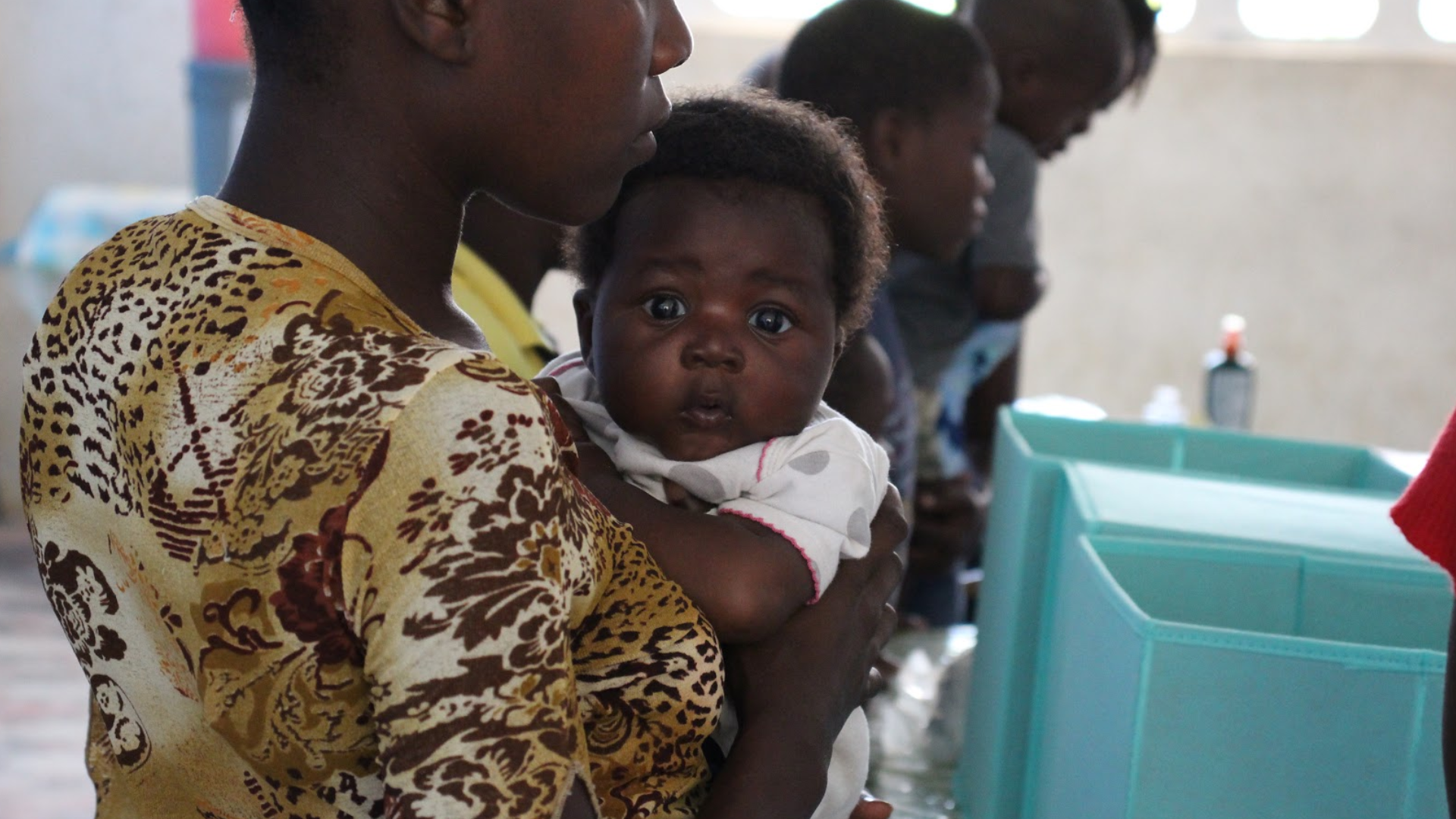 VillageMED is a non-profit organization which provides healthcare services to children in Haiti through their mobile clinics. 
All patient records are on paper at present, which makes it difficult to maintain and go back to it. Also, during the process of treatment in their mobile clinics, the paper travels from one person to the other. This makes the process cumbersome and slow resulting in long hours of waiting for the patients. It is tedious task for healthcare providers and volunteers as number of patients in a day are usually very high. 
VillageMED's primary requirement was to have an Electronic Medical Record System to make their process digitally accessible and easier to maintain.
To understand the current process of villageMED team in detail 
Understand the story from each user's perspective. 
Know their expectations, requirements, pain points and find out opportunities that can serve them better. 
Analyze all the data collected in research
Design a system that meets their actual needs.
My Role :
Analysis, Prototyping, UI Design, Testing
Users :
VillageMED staff and volunteers are direct users of the system. Half of them from US and others from Haiti.
Research on EMR systems

- We did some research online on existing EMR system   
User Interviews

-  User interviews were conducted for each type of the user, to understand the flow from their perspective.
Onsite Observation

- Onsite observation was done in Haiti in one of their medical trips, to observe the whole process in real time and gain some insights from the people in their working environment.
​​​​​​​
By interviewing them in their working environment helped us understand their user journey even better.
Through the user research we got detailed information about the villageMED process and users. We created affinity diagrams of all the data collected and derived conclusions about the system.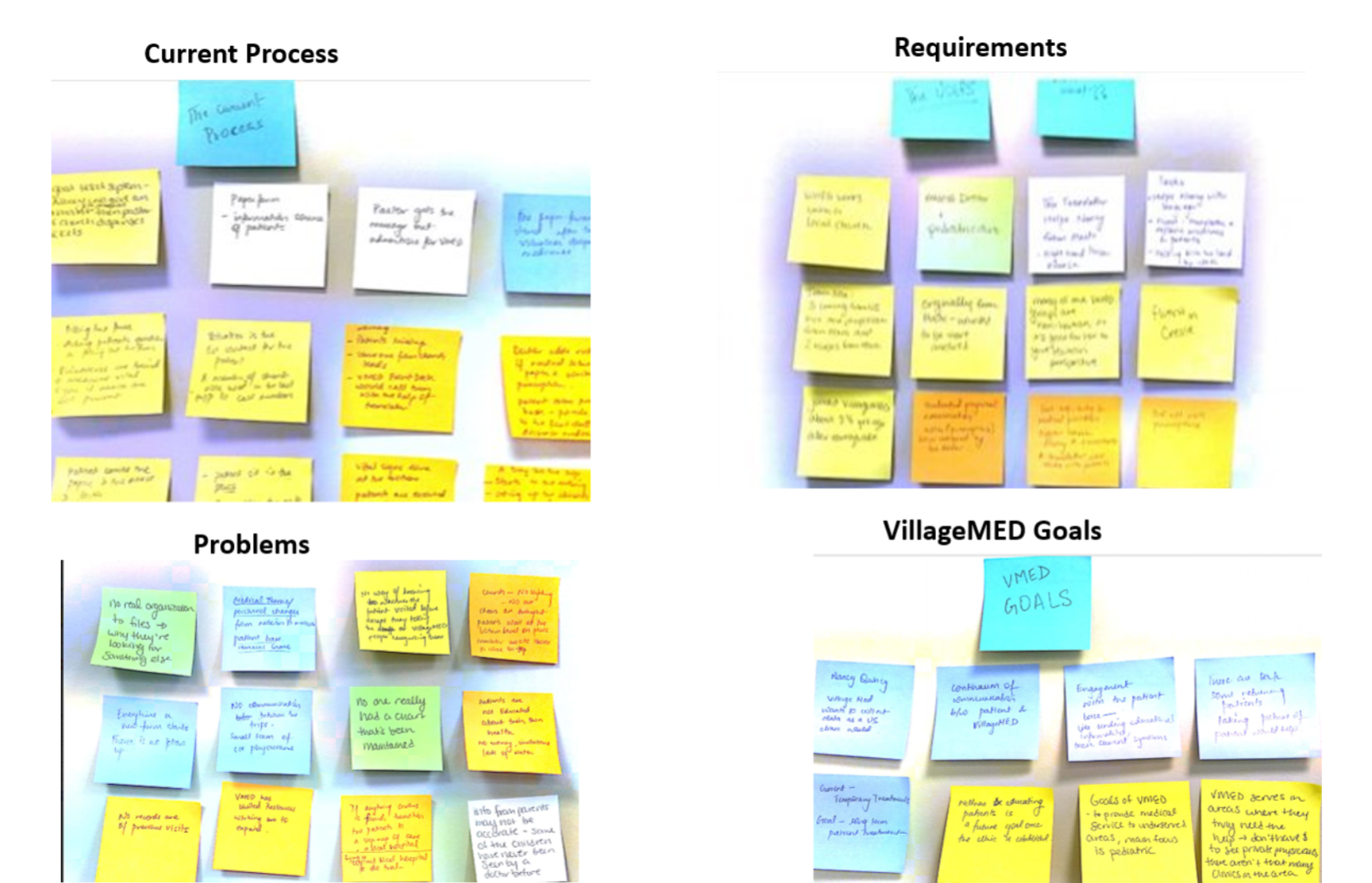 We were able to understand the current process of VillageMED and map it to the users involved in the whole system.

1. The onsite data helped us understand the environment in which the system will be used. We found that it is a very dynamic environment, and not a proper clinic.

So our conclusion was that tablet devices would be better suited for user needs.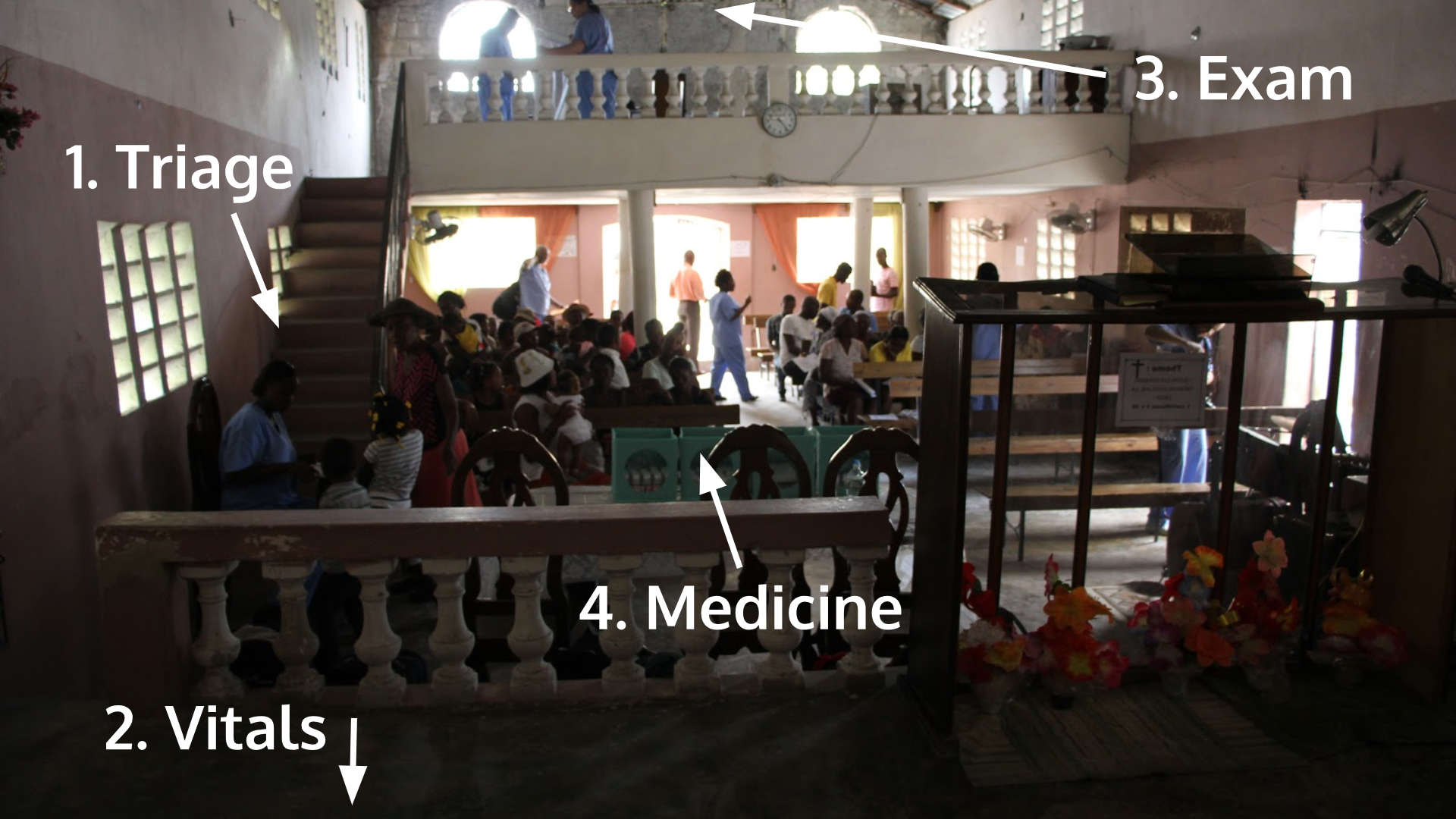 2.
Data Collected during Visit --
1st Set (Demographics)

: picture of patient, patient name, guardian's name, contact/guardian's contact info (cell/email), patient age, patient sex
2nd Set (Vitals)

: vital signs (temperature, pulse, RR, BP, weight; general questions about reason for visit, medication/treatment at the time of visit
3rd Set (Physical Examination)

: Review of Symptoms (ROS)
4th Set (Final Assessment)

: Assessment, Treatment Plan, Medicine Dispensed, Physician signature
--

Patient Info/History (accessible in system for review; filled out as much as possible upon first visit)--
By looking at the type of data they want to collect at different stages, we came to conclusion that a customized mobile application (for tablets) would be the right solution for VillageMED instead of a traditional EMR system.
Mapping the user flow with the application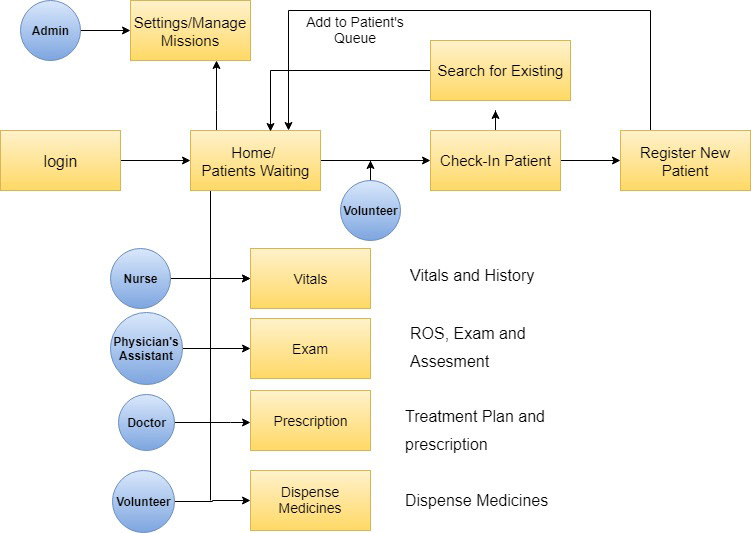 This led to the beginning of prototyping, I created paper prototypes followed by further iterations of low fidelity wireframes.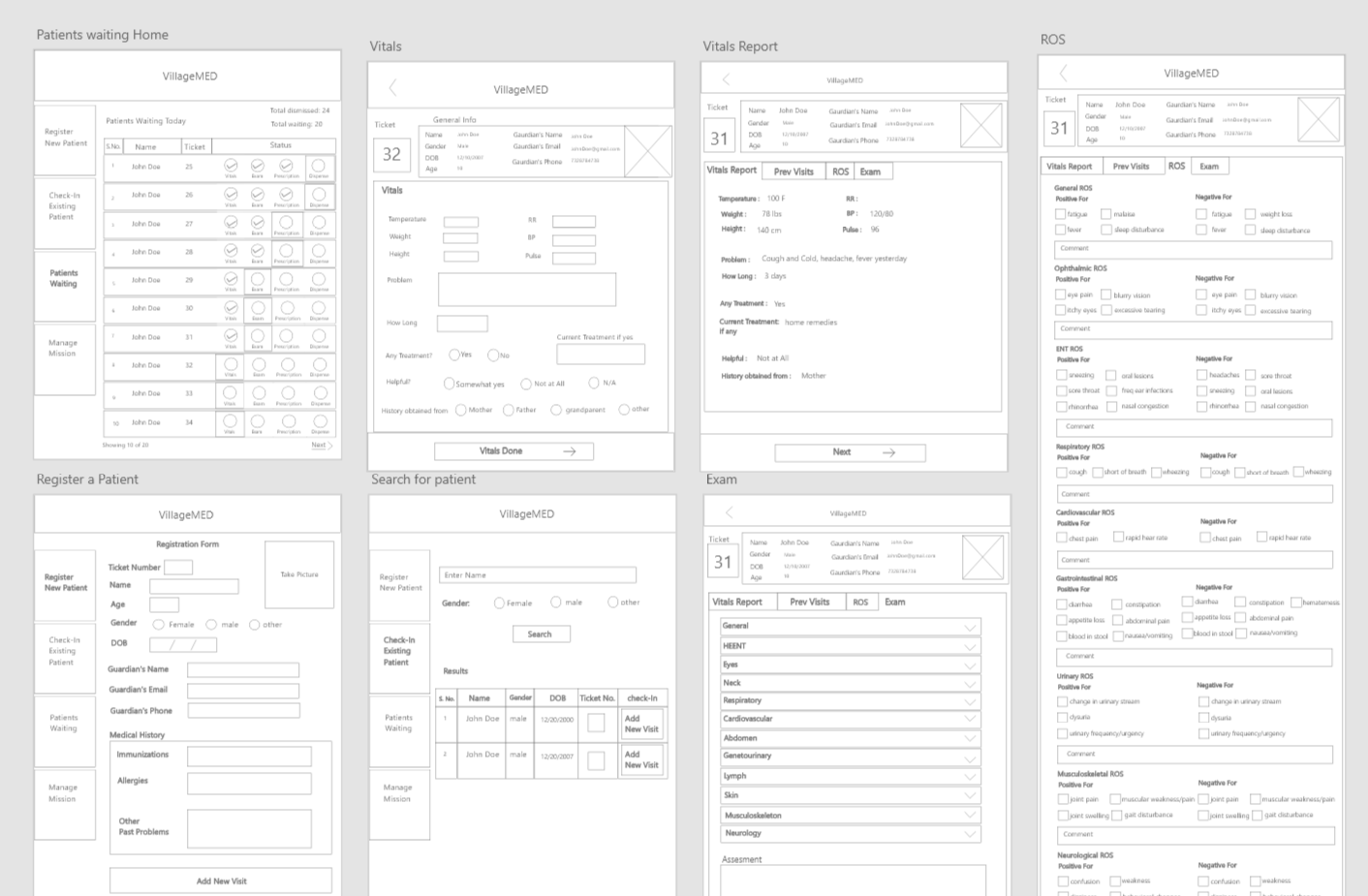 First medium fidelity prototypes were tested with the users onsite. I got interesting feedback from that process.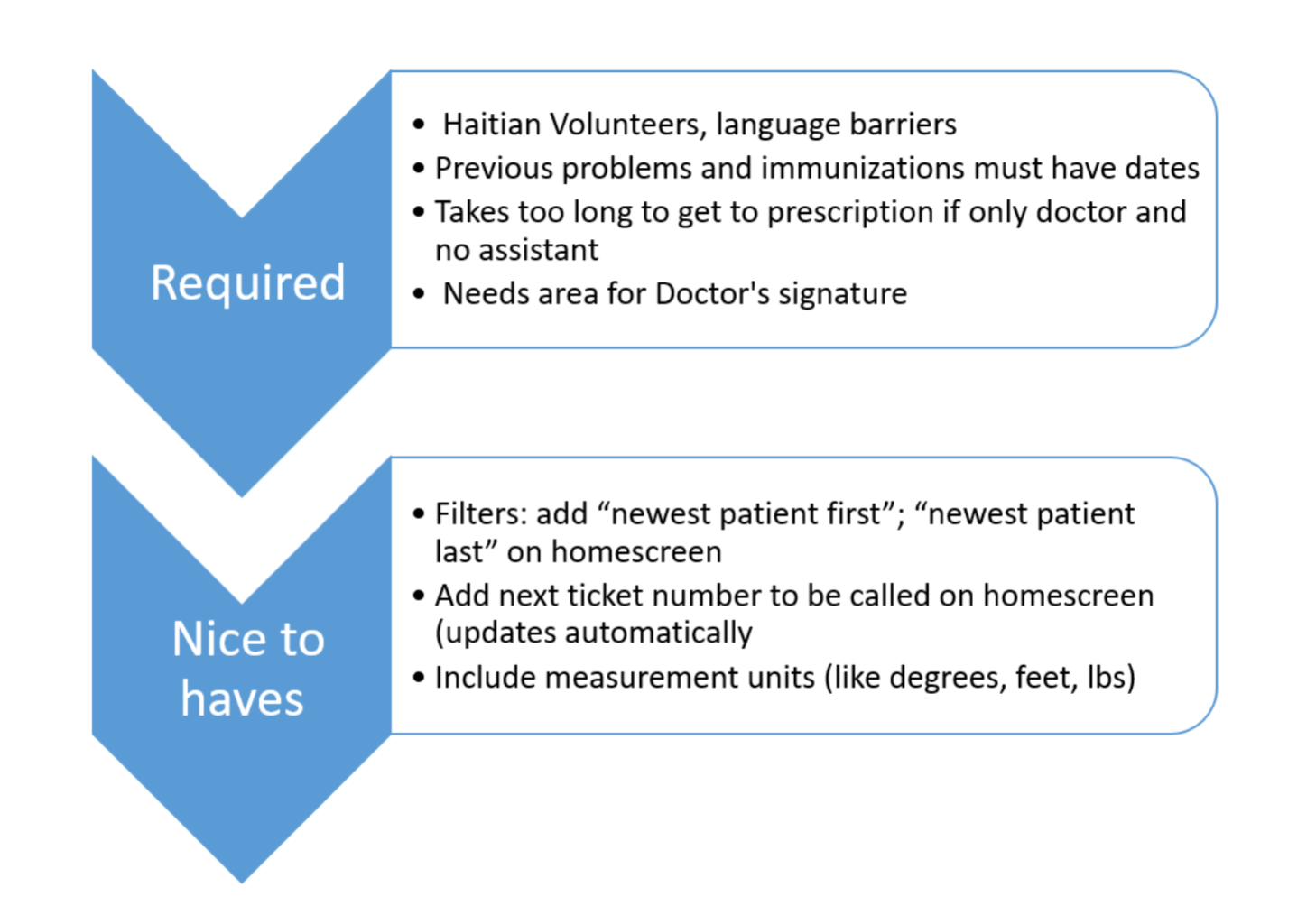 Based on the user testing, I updated the prototypes and came up with high fidelity designs.
This project gave me the opportunity to do in-depth user research, analysis and dive deeper into prototyping and designing elements for data collection.